As our dogs age, they may begin to slow down, but we make every effort to ensure their happiness and comfort during their later years.
However, one family took their love for their aging dog to the next level by altering their sleep routines to ensure that he received the affection and attention he deserved.
Spike is a 14-year-old English Springer Spaniel who, like many dogs his age, struggles with mobility issues. He recently experienced a second stroke that has made it difficult for him to navigate stairs.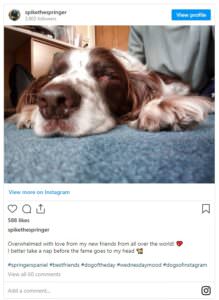 Regrettably, this meant that Spike was unable to engage in one of his favorite pastimes, which was sleeping in bed with his family, a habit he had developed since he was a puppy.
"The first night we had him, we closed the stair gate and went to bed," Spike's owner Catherine Morris told The Dodo. "He whined for a couple of minutes before jumping over the gate in the dark and trotting up into my parents' room and straight up onto the bed! And that's where he slept from then on."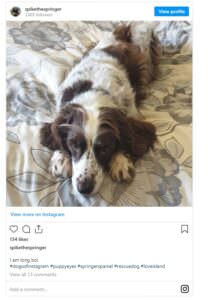 Spike's weakened state prevented him from reaching his favorite spot on the second-floor bedroom, but he kept trying until his family had to block off the stairs to prevent him from doing so.
Instead, they devised an endearing solution: if Spike was unable to join them upstairs for sleep, they would come downstairs and slumber with Spike!
Presently, family members take turns arranging the pull-out couch and spending the night downstairs with Spike, in order to ensure that the elderly dog is not alone.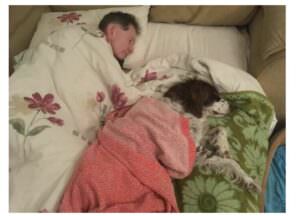 Instagram/@spikethespringer
Upon returning from university, Catherine discovered her parents' revised sleeping routine, yet she was unsurprised as they have always shared a tight-knit relationship with Spike.
"They're absolutely inseparable," Catherine told The Dodo. "My dad calls him 'old bean' and they're always chatting away."
"My dad will also bring Spike his water and food to the sofa and feed him by hand to make sure he gets his medicines and keeps his strength up."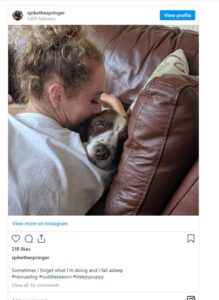 Despite Spike's age and declining health, the love his family has for him remains unwavering.
The family's selflessness is evident in their actions as they strive to ensure that Spike's last years are as enjoyable as possible.
"We love our old boy so much and are so glad to have him in our lives," Catherine said. "Hopefully, we have made up for his not so good start in life by providing all the love in the world."
The family's dedication to their old dog is truly heartwarming, and it's wonderful to see how much they care for him.